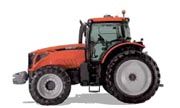 AGCO DT205B Row-Crop tractor Technical Specifications
AGCO DT205B is a Row-Crop tractor that was produced by the John Deere between 2009 – 2010.
Below you will find detailed technical specifications for AGCO DT205B covering engine types, horsepower ratings, weight, height, fuel type and tank volume, oil capacity and type, hydraulic system diagram, wiring diagram, battery specs, etc.
AGCO DT205B Production



Manufacturer:


Manufacturer:


AGCO




Type:


Row-Crop tractor




Factory:


Beauvais, France




Original price:


$185,670 (2009 )




The AGCO DT205B is the same as the Massey Ferguson 8650.



AGCO DT205B Power

Engine:


Engine:


240 hp


179.0 kW






PTO (claimed):


205 hp


152.9 kW






Drawbar (tested):


180.1 hp


134.3 kW






PTO (tested):


250.0 hp


186.4 kW





AGCO DT205B Electrical
| | |
| --- | --- |
| Ground: | negative |
| Charging system: | alternator |
| Charging amps: | 240 |
| Battery volts: | 12 |
AGCO DT205B Mechanical



Chassis:


4×4 MFWD 4WD




Final drives:


inboard planetary




Differential lock:


full locking electro-hydraulic front and rear




Steering:


power




Brakes:


hydraulic wet disc




Cab:


Cab standard with heat and air-conditioning. Optional heated seat, power adjustable mirrors, and automatic temperature control. ISOBUS 11783 compatible. Auto-Guide optional.




Transmission:


continuously variable transmission





Hydraulics




Type:


closed center load sensing




Pressure:


2,901 psi


200.0 bar






Valves:


4 to 6




SCV flow:


26.4 gpm


99.9 lpm






Total flow:


46.2 gpm


174.9 lpm




Tracktor Hitch




Rear Type:


3






4

*

Optional






Rear lift (at ends):


26,460 lbs


12002 kg






Rear lift (at 24″/610mm):


21,336 lbs


9678 kg






Front Hitch:


3




Front lift (at ends):


11,020 lbs


4998 kg






Drawbar:


Category 3






Category 3 Heavy Duty

*

Optional








Category 4

*

Optional




Power Take-off (PTO)




Rear PTO:


independent




Clutch:


electro-hydraulic




Rear RPM:


1000E/1000 (1.75)




Engine RPM:


1000@1970
1000E@1605




Front PTO:


optional




Front RPM:


1000


AGCO DT205B Engine detail




Engine Detail


AGCO SISU POWER 84CTA



turbocharged intercooled diesel



6-cylinder



liquid-cooled



The engine uses AGCO`s e3 selective catalytic reduction (SCR) system to reduce nitrogen oxides (NOx). The system uses a diesel exhaust fluid that is injected into the exhaust gas. The engine could optionally be equipped with an exhaust gas recirculation (EGR) system in place of SCR.



Displacement:


512.6 ci


8.4 L






Bore/Stroke:


4.37×5.71 inches


111 x 145 mm






Emissions:


Tier III




Emission control:


selective catalytic reduction (SCR)






exhaust gas recirculation (EGR) optional




Power:


240 hp


179.0 kW






Maximum Power:


270 hp


201.3 kW






Fuel system:


high-pressure common rail




Pre-heating:


thermostart




Compression:


16.7:1




Rated RPM:


2200




Torque:


874 lb-ft


1185.1 Nm






Torque RPM:


1500




Starter:


electric




Starter volts:


12





Engine Oil

AGCO DT205B Transmission overview

| | |
| --- | --- |
| Transmission: | PowerMaxx CVT |
| Type: | continuously variable transmission |
| Gears: | infinite forward and reverse |

AGCO DT205B Dimensions




Wheelbase:


122.2 inches


310 cm






Length:


215.7 inches


547 cm






Height (cab):


141 inches


358 cm






Shiping weight:


24,250 lbs


10999 kg






Max weight:


38,890 lbs


17640 kg






Front axle:


Suspension optional




Rear axle:


Bar: 4.33 by 118 inches


109 by 2997 mm






Rear axle:


Bar: 4.33 by 105 inches


109 by 2667 mm

(




Rear tread:


58.5 to 119.5 inches


148 to 303 cm




AGCO DT205B Tests




OCED Tractor Test 2496














OCED Tractor Test 2496



SCR diesel CVT 4WD
October 2008 – February 2009,
Link: OCED Tractor Test 2496 file



PTO performance



Max power:


242.3 hp


180.7 kW






Fuel use:


12.1 gal/hour


45.8 l/hour






Power at rated engine speed:


212.7 hp


158.6 kW






Fuel use:


11.6 gal/hour


43.9 l/hour






Power at rated PTO speed:


232.9 hp


173.7 kW






Fuel use:


12.1 gal/hour


45.8 l/hour






Drawbar performance



Max power:


180.1 hp


134.3 kW






Fuel use:


11.6 gal/hour


43.9 l/hour






Pull at 7.6 KPH



Max pull:


27,890 lbs


12650 kg






Pull at 3.9 KPH










OCED Tractor Test 2557



EGR diesel CVT 4WD
October 2009 – March 2010,
Link: OCED Tractor Test 2557 file



PTO performance



Max power:


250.0 hp


186.4 kW






Fuel use:


14.0 gal/hour


53.0 l/hour






Power at rated engine speed:


216.2 hp


161.2 kW






Fuel use:


13.5 gal/hour


51.1 l/hour






Power at rated PTO speed:


239.0 hp


178.2 kW






Fuel use:


13.8 gal/hour


52.2 l/hour






Drawbar performance



Max power:


175.1 hp


130.6 kW






Fuel use:


13.5 gal/hour


51.1 l/hour






Pull at 7.5 KPH



Max pull:


27,130 lbs


12306 kg






Pull at 3.9 KPH




FAQ

Is AGCO DT205B a good tractor?

The AGCO DT205B is one of the great tractors in the AGCO stable, and it has earned AGCO a fantastic reputation.

How much oil does a AGCO DT205B take?

Check out the AGCO DT205B oil capacity and oil type in the engine specs section as it may vary across the engines. Keep in mind, that older models might have their oil capacity increased over time. You may compare between the early and late oil capacity.

Do tractors have VIN numbers?

Every tractor has a VIN number. The number is usually engraved below the driver's seat. Tractor manufacturers put the number in different places on the tractor body.

What was the last year AGCO made the DT205B?

The AGCO DT205B was an agricultural tractor model made from 2009 – 2010