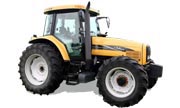 Challenger MT525B MT500B Series Technical Specifications
Challenger MT525B is a Row-Crop tractor that was produced by the John Deere between 2004 – 2011.
Below you will find detailed technical specifications for Challenger MT525B covering engine types, horsepower ratings, weight, height, fuel type and tank volume, oil capacity and type, hydraulic system diagram, wiring diagram, battery specs, etc.
Challenger MT525B Production



Manufacturer:


Manufacturer:


Challenger (a part of AGCO)




Type:


Row-Crop tractor




Factory:


Beauvais, France




The Challenger 525B is similar to the Massey Ferguson 6465 and 7465.



Challenger MT525B Power

Engine:


Engine:


118 hp


88.0 kW






PTO (claimed):


95 hp


70.8 kW






Drawbar (tested):


81.8 hp


61.0 kW






PTO (tested):


110.9 hp


82.7 kW





Challenger MT525B Electrical
| | |
| --- | --- |
| Ground: | negative |
| Charging system: | alternator |
| Charging amps: | 120 |
| Batteries: | 2 |
| Battery CCA: | 420 |
| Battery volts: | 12 |
Challenger MT525B Mechanical



Chassis:


4×2 2WD






4×4 MFWD 4WD




Final drives:


inboard planetary




Differential lock:


electro-hydraulic front and rear




Steering:


power




Brakes:


hydraulic wet disc




Trailer brakes:


hydraulic

*

Optional






Cab:


Cab standard with heat and A/C. Optional pneumatic cab suspension and automatic climate control.




Transmissions:


32-speed partial power shift






24-speed partial power shift






continuously variable transmission





Capacity




Fuel:


71 gal


268.7 L






AutoPower Hydraulic system:


18.5 gal


70.0 L






CVT Hydraulic system:


26.4 gal


99.9 L




Hydraulics




Type:


closed center pressure flow compensating (PFC)




AutoPower Capacity:


18.5 gal


70.0 L






CVT Capacity:


26.4 gal


99.9 L






Pressure:


2900 psi


200.0 bar






Rear valves:


2 to 4




Total flow:


29 gpm


109.8 lpm




Tracktor Hitch




Rear Type:


II/III




AP Rear lift (at 24″/610mm):


8500 lbs


3855 kg






CVT Rear lift (at 24″/610mm):


11200 lbs


5080 kg






Front Hitch:


optional




Front lift:


5,500 lbs


2494 kg




Power Take-off (PTO)




Rear PTO:


independent




Rear RPM:


540/1000 (1.375)






540/540E/1000

*

Optional






Engine RPM:


540@1980
540E@1533
1000@2000
1000E@1548


Title serial numbers




2004:


N00001




2005:


P00001




2006:


R00001




2007:


S00001








how to read serial numbers…




What year is my Challenger MT525B? Serial Number Decoder

The serial number list shows the first tractor built in each year. The other tractors for that year will have successively higher numbers. Your serial number should be between two of the stated numbers.

The list only includes the numbers of the first tractors produced in each year. Your serial should be somewhere between two numbers.Unless you happen to be the first person to own a tractor, your number will not appear on the list.

Challenger MT525B Engine detail




Engine Detail


Caterpillar 3056C



turbocharged diesel



6-cylinder



liquid-cooled vertical inline



Displacement:


365.2 ci


6.0 L






Bore/Stroke:


3.937×5.00 inches


100 x 127 mm






Emissions:


Tier II




Power:


118 hp


88.0 kW






Fuel system:


electronic direct injection




Cooling system:


viscous fan




Air cleaner:


dual paper elements




Compression:


17.5:1




Rated RPM:


2200




Idle RPM:


800-2350




Starter volts:


12




Starter power:


4 hp


3.0 kW






Oil capacity:


15.3 qts


14.5 L






Coolant capacity:


29.6 qts


28.0 L







Engine Oil

Challenger MT525B Transmission overview




Transmission:


AutoPower IV




Type:


partial power shift




Gears:


32 forward and reverse




Clutch:


hydraulic wet disc




Four synchronized gears (1-4) in two synchronized ranges (low/high) with a four-speed (A-D) power shift on the left-hand power shuttle lever.

Challenger MT525B Dimensions




2WD Wheelbase:


112.1 inches


284 cm






4WD Wheelbase:


109.5 inches


278 cm






Length:


168.5 inches


427 cm






Width:


81.1 inches


205 cm






Height (cab):


112.8 inches


286 cm






Clearance (drawbar):


15.4 inches


39 cm






Rear axle:


Flange




2WD Front tread:


64.1 to 83 inches


162 to 210 cm






2WD Front tread:


73.2 to 96 inches


185 to 243 cm

(wide row-crop axle)




4WD Front tread:


61.7 to 80.8 inches


156 to 205 cm






Rear tread:


54.4 to 88.1 inches


138 to 223 cm








Challenger MT525B Weight



2WD Shipping:


11052 lbs


5013 kg






4WD Shipping:


11546 lbs


5237 kg






CVT 4WD Shipping:


13084 lbs


5934 kg






4WD Operating:


12180 lbs


5524 kg






CVT 4WD Operating:


14835 lbs


6729 kg






Max Drawbar:


3821 lbs


1733 kg






2WD Max front axle:


4652 lbs


2110 kg






4WD Max front axle:


7054 lbs


3199 kg






Max rear axle:


12345 lbs


5599 kg




Challenger MT525B Tests




OCED Tractor Test 5153














OCED Tractor Test 5153



Diesel AutoPower IV 4WD
February 2004 – March 2004,
Link: OCED Tractor Test 5153 file



PTO performance



Max power:


110.9 hp


82.7 kW






Fuel use:


6.4 gal/hour


24.2 l/hour






Power at rated engine speed:


96.7 hp


72.1 kW






Fuel use:


6.7 gal/hour


25.4 l/hour






Power at rated PTO speed:


109.2 hp


81.4 kW






Fuel use:


6.7 gal/hour


25.4 l/hour






Drawbar performance



Max power:


60.2 hp


44.9 kW






Fuel use:


5.6 gal/hour


21.2 l/hour






Gear 1LB used for power test.



Max pull:


10,160 lbs


4608 kg






Gear 1TD used for pull test.










OCED Tractor Test 2193



Diesel CVT 4WD
January 2004 – March 2004,
Link: OCED Tractor Test 2193 file



PTO performance



Max power:


106.5 hp


79.4 kW






Fuel use:


6.3 gal/hour


23.8 l/hour






Power at rated engine speed:


96.7 hp


72.1 kW






Fuel use:


6.6 gal/hour


25.0 l/hour






Power at rated PTO speed:


102.5 hp


76.4 kW






Fuel use:


6.5 gal/hour


24.6 l/hour






Drawbar performance



Max power:


81.8 hp


61.0 kW






Pull at 6.2 KPH



Max pull:


14,310 lbs


6491 kg






Pull at 3.3 KPH




FAQ

Is Challenger MT525B a good tractor?

The Challenger MT525B is one of the great tractors in the Challenger (a part of AGCO) stable, and it has earned Challenger (a part of AGCO) a fantastic reputation.

How much oil does a Challenger MT525B take?

Check out the Challenger MT525B oil capacity and oil type in the engine specs section as it may vary across the engines. Keep in mind, that older models might have their oil capacity increased over time. You may compare between the early and late oil capacity.

Do tractors have VIN numbers?

Every tractor has a VIN number. The number is usually engraved below the driver's seat. Tractor manufacturers put the number in different places on the tractor body.

What was the last year Challenger (a part of AGCO) made the MT525B?

The Challenger MT525B was an agricultural tractor model made from 2004 – 2011