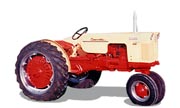 J.I. Case 611-B Row-Crop tractor Technical Specifications
J.I. Case 611-B is a Row-Crop tractor that was produced by the John Deere between 1958 – 1959.
Below you will find detailed technical specifications for J.I. Case 611-B covering engine types, horsepower ratings, weight, height, fuel type and tank volume, oil capacity and type, hydraulic system diagram, wiring diagram, battery specs, etc.
J.I. Case 611-B Production



Manufacturer:


Manufacturer:


J.I. Case




Type:


Row-Crop tractor




Factory:


Rock Island, Illinois, USA




Total built:


3,213




Original price:


$4,000 (1960 )




Often referred to as the Case 600B, the Case 611-B was the row-crop version of the 600B series which also included a standard front and an orchard variant. The 611-B could be fitted with either a tricycle front or an adjustable wide front. The Case-O-Matic transmission was standard equipment, with the 500B series tractors using the same engine but with a conventional transmission.



J.I. Case 611-B Power

Engine:


PTO (claimed):


45 hp


33.6 kW






Drawbar (tested):


37.04 hp


27.6 kW






PTO (tested):


44.56 hp


33.2 kW





J.I. Case 611-B Electrical
| | |
| --- | --- |
| Ground: | positive |
| Battery volts: | 12 |
| Battery AH: | 50 |
J.I. Case 611-B Mechanical



Chassis:


4×2 2WD




Steering:


manual




Brakes:


disc




Cab:


Open operator station.




Transmission:


8-speed torque converter





Capacity




Fuel:


13.8 gal


52.2 L






Hydraulic system:


3 gal


11.4 L




Hydraulics




Type:


open center




Capacity:


3 gal


11.4 L






Pressure:


1200 psi


82.7 bar




Tracktor Hitch




Type:


Case Eagle Hitch

*

Optional




Power Take-off (PTO)

| | |
| --- | --- |
| Rear PTO: | independent |
| Rear RPM: | 540 (1.375) |
| Engine RPM: | 541@1970 |

Title serial numbers




Location:


Serial number plate on instrument panel




1958:


6095001




1959:


6120001








how to read serial numbers…




What year is my J.I. Case 611-B? Serial Number Decoder

The serial number list shows the first tractor built in each year. The other tractors for that year will have successively higher numbers. Your serial number should be between two of the stated numbers.

The list only includes the numbers of the first tractors produced in each year. Your serial should be somewhere between two numbers.Unless you happen to be the first person to own a tractor, your number will not appear on the list.

J.I. Case 611-B Engine detail




Engine Detail


J.I. Case



gasoline



4-cylinder



liquid-cooled



Displacement:


164.5 ci


2.7 L






Bore/Stroke:


3.5625×4.125 inches


90 x 105 mm






Air cleaner:


oil bath




Compression:


7.26:1




Rated RPM:


2250




Starter:


electric




Starter volts:


12




Coolant capacity:


12 qts


11.4 L







Engine Oil

J.I. Case 611-B Transmission overview




Transmission:


Case-O-Matic




Type:


torque converter




Gears:


8 forward and 2 reverse




Oil capacity:


44 qts


41.6 L

(gearbox)






16 qts


15.1 L

(torque converter)


J.I. Case 611-B Dimensions




Wheelbase:


87 inches


220 cm






Length:


138 inches


350 cm






Width:


80.75 inches


205 cm

*

Width at axle ends.






Height (steering wheel):


65.5 inches


166 cm






Height (exhaust):


85.5 inches


217 cm






Operating weight:


4885 lbs


2215 kg






Ballasted weight:


8049 lbs


3651 kg






Front tread:


9.1/15.1 inches


23/38 cm

(tricycle)




Front tread:


54 to 78 inches


137 to 198 cm

(wide front)




Front tread:


44 to 60 inches


111 to 152 cm

(narrow wide front)




Rear tread:


54 to 88 inches


137 to 223 cm




J.I. Case 611-B Tests




Nebraska Tractor Test 687














Nebraska Tractor Test 687



Gasoline 8-speed 2WD
3/19/1959
Link: Nebraska Tractor Test 687 file



PTO performance



Power at rated engine speed:


44.56 hp


33.2 kW






Fuel use:


4.6 gal/hour


17.4 l/hour






Power at rated PTO speed:


41.14 hp


30.7 kW






Fuel use:


4.1 gal/hour


15.5 l/hour






Drawbar performance



Max power:


37.04 hp


27.6 kW






Fuel use:


4.4 gal/hour


16.7 l/hour






Gear 5 used for power test.



Max pull:


5,462 lbs


2477 kg






Gear 2 used for pull test.




FAQ

Is J.I. Case 611-B a good tractor?

The J.I. Case 611-B is one of the great tractors in the J.I. Case stable, and it has earned J.I. Case a fantastic reputation.

How much oil does a J.I. Case 611-B take?

Check out the J.I. Case 611-B oil capacity and oil type in the engine specs section as it may vary across the engines. Keep in mind, that older models might have their oil capacity increased over time. You may compare between the early and late oil capacity.

Do tractors have VIN numbers?

Every tractor has a VIN number. The number is usually engraved below the driver's seat. Tractor manufacturers put the number in different places on the tractor body.

What was the last year J.I. Case made the 611-B?

The J.I. Case 611-B was an agricultural tractor model made from 1958 – 1959

Where is the serial number on a J.I. Case 611-B?

Lookup serial number plate on instrument panel