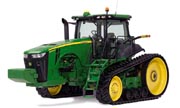 John Deere 8335RT Agricultural Crawler tractor Technical Specifications
John Deere 8335RT is a Row-Crop tractor that was produced by the John Deere between 2011 – 2013.
Below you will find detailed technical specifications for John Deere 8335RT covering engine types, horsepower ratings, weight, height, fuel type and tank volume, oil capacity and type, hydraulic system diagram, wiring diagram, battery specs, etc.
John Deere 8335RT Production



Manufacturer:


Manufacturer:


John Deere




Type:


Agricultural Crawler tractor




Factory:


Waterloo, Iowa, USA




The John Deere 8335RT was re-tested at Nebraska (Test 1999A) to reflect the new three-point lift capacity for the 2012 model year.



John Deere 8335RT Power

Engine:


Engine (gross):


335 hp


249.8 kW






Engine (max):


369 hp


275.2 kW






PTO (claimed):


268 hp


199.8 kW






Drawbar (tested):


250.61 hp


186.9 kW






PTO (tested):


323.28 hp


241.1 kW





John Deere 8335RT Electrical
| | |
| --- | --- |
| Ground: | negative |
| Charging system: | alternator |
| Charging amps: | 200 |
| Batteries: | 2 |
| Battery CCA: | 925 |
| Battery volts: | 12 |
John Deere 8335RT Mechanical



Chassis:


crawler




Steering:


electro-hydraulic power




Cab:


CommandView II cab standard with heat and air-conditioning.




Transmissions:


16-speed full power shift






infinitely variable transmission (IVT)





Hydraulics




Type:


closed center pressure-flow compensated




Pressure:


2900 psi


200.0 bar






Rear valves:


3 to 5




Pump flow:


35 gpm


132.5 lpm






Total flow:


60 gpm


227.1 lpm




Tracktor Hitch




Rear Type:


4N/3




Rear lift (at 24″/610mm):


19,300 lbs


8754 kg

(2011)






20,000 lbs


9072 kg

(2012-2013)


Power Take-off (PTO)

| | |
| --- | --- |
| Rear PTO: | independent |
| Rear RPM: | 1000 (1-3/4) |

John Deere 8335RT Engine detail




Engine Detail


John Deere PowerTech PSX



dual turbocharged diesel



6-cylinder 24-valve



liquid-cooled inline



Optional engine Intelligent Power Management (IPM) adds 35 horsepower at rated speed.



Displacement:


548 ci


9.0 L






Bore/Stroke:


4.66×5.35 inches


118 x 136 mm






Emissions:


Interim Tier IV






Stage IIIB




Emission control:


exhaust gas recirculation (EGR)




Rated Power (EC 97/98):


335 hp


249.8 kW






Maximum Power (EC 97/68):


369 hp


275.2 kW








383 hp


285.6 kW

(IPM)




Air cleaner:


dual stage with aspiration




Compression:


16:1




Rated RPM:


2100




Starter:


electric




Starter volts:


12




Oil capacity:


26.4 qts


25.0 L






Oil change:


250 h







500 h
(with JD Plus-50 II)




Coolant capacity:


43.3 qts


41.0 L







Engine Oil

John Deere 8335RT Transmission overview

| | |
| --- | --- |
| Transmission: | John Deere Automatic PowerShift |
| Type: | full power shift |
| Gears: | 16 forward and 4 reverse |

John Deere 8335RT Dimensions




Wheelbase:


99 inches


251 cm






Length:


270.9 inches


688 cm






Width:


134.6 inches


341 cm

(axle)






174.6 inches


443 cm

(wide axle)




Height (cab):


131.3 inches


333 cm






Ballasted weight:


39,000 lbs


17690 kg






Max weight:


44,000 lbs


19958 kg






Clearance (drawbar):


15.4 inches


39 cm




John Deere 8335RT Tests




OCED Tractor Test 1999














OCED Tractor Test 1999



Diesel PowerShift crawler
September 15 – 27, 2011
Link: OCED Tractor Test 1999 file



PTO performance



Max power:


323.28 hp


241.1 kW






Fuel use:


17.3 gal/hour


65.5 l/hour






Power at rated engine speed:


290.65 hp


216.7 kW






Fuel use:


16.0 gal/hour


60.6 l/hour






Power at rated PTO speed:


315.36 hp


235.2 kW






Fuel use:


17.1 gal/hour


64.7 l/hour






Drawbar performance



Max power:


250.61 hp


186.9 kW






Fuel use:


16.0 gal/hour


60.6 l/hour






Gear 8 used for power test.



Max pull:


34802 lbs


15786 kg






Gear 4 used for pull test.










OCED Tractor Test 1999A



Diesel PowerShift crawler
September 15 – 27, 2011
Link: OCED Tractor Test 1999A file



PTO performance



Max power:


323.28 hp


241.1 kW






Fuel use:


17.3 gal/hour


65.5 l/hour






Power at rated engine speed:


290.65 hp


216.7 kW






Fuel use:


16.0 gal/hour


60.6 l/hour






Power at rated PTO speed:


315.36 hp


235.2 kW






Fuel use:


17.1 gal/hour


64.7 l/hour






Drawbar performance



Max power:


250.61 hp


186.9 kW






Fuel use:


16.0 gal/hour


60.6 l/hour






Gear 8 used for power test.



Max pull:


34802 lbs


15786 kg






Gear 4 used for pull test.




FAQ

Is John Deere 8335RT a good tractor?

The John Deere 8335RT is one of the great tractors in the John Deere stable, and it has earned John Deere a fantastic reputation.

How much oil does a John Deere 8335RT take?

Check out the John Deere 8335RT oil capacity and oil type in the engine specs section as it may vary across the engines. Keep in mind, that older models might have their oil capacity increased over time. You may compare between the early and late oil capacity.

Do tractors have VIN numbers?

Every tractor has a VIN number. The number is usually engraved below the driver's seat. Tractor manufacturers put the number in different places on the tractor body.

What was the last year John Deere made the 8310RT

The John Deere 8335RT was an agricultural tractor model made from 2011 – 2013