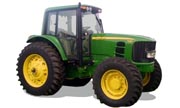 John Deere 7130 Row-Crop tractor Technical Specifications
John Deere 7130 is a Row-Crop tractor that was produced by the John Deere between 2007 – 2011.
Below you will find detailed technical specifications for John Deere 7130 covering engine types, horsepower ratings, weight, height, fuel type and tank volume, oil capacity and type, hydraulic system diagram, wiring diagram, battery specs, etc.
John Deere 7130 Production



Manufacturer:


Manufacturer:


John Deere




Type:


Row-Crop tractor




Factory:


Mannheim, Baden-Wurttemberg, Germany




The basic Deere 7130 was available a basic cab or open-operator station with ROPS. Upgraded hydraulics and hitch were optional on open-operator station models. Upgraded systems with a cab were only available on the 7130 Premium.



John Deere 7130 Power

Engine:


Engine (gross):


125 hp


93.2 kW






PTO (claimed):


100 hp


74.6 kW



John Deere 7130 Engines
John Deere 6.8L 6-cyl diesel
John Deere 4.5L 4-cyl diesel




Mechanical



Chassis:


4×2 2WD






4×4 MFWD 4WD (optional)




Steering:


hydrostatic power




Brakes:


differential hydraulic wet disc




Cab:


Two-post Roll-Gard ROPS. Cab optional.




Transmissions:


12-speed full synchro shift






16-speed full synchro shift






16-speed partial power shift






24-speed partial power shift







Capacity



Fuel:


54.7 gal


207.0 L








66 gal


249.8 L

(optional)




Hydraulic system:


13.7 gal


51.9 L








15.9 gal


60.2 L






Front axle:


8.8 qts


8.3 L






Front hubs:


1.6 qts


1.5 L







Hydraulics



Type:


constant flow load sensing






closed-center load sensing (optional with ROPS)




Capacity:


13.7 gal


51.9 L








15.9 gal


60.2 L






Pressure:


2900 psi


200.0 bar






Valves:


1 to 4




Pump flow:


21.1 gpm


79.9 lpm








29 gpm


109.8 lpm

(optional with ROPS)





Tractor hitch



Rear Type:


II




Control:


position control






electronic lower-link (optional with ROPS)




Rear lift (at 24″/610mm):


5,915 lbs


2683 kg







Power Take-off (PTO)



Rear PTO:


independent




Rear RPM:


540/1000





Dimensions & Tires



Wheelbase:


106.3 inches


270 cm

(2WD)






104.3 inches


264 cm






Weight:


9657 to 12340 pounds




Front tire:


10.00-16




Rear tire:


18.4R38 (2WD)





Full dimensions and tires …




7130 Serial Numbers



Location:


Right side of main frame above front axle



John Deere 7130 Electrical
| | |
| --- | --- |
| Ground: | negative |
| Charging system: | alternator |
| Charging amps: | 90 |
| Battery volts: | 12 |
John Deere 7130 Mechanical



Chassis:


4×2 2WD






4×4 MFWD 4WD (optional)




Steering:


hydrostatic power




Brakes:


differential hydraulic wet disc




Cab:


Two-post Roll-Gard ROPS. Cab optional.




Transmissions:


12-speed full synchro shift






16-speed full synchro shift






16-speed partial power shift






24-speed partial power shift





Capacity




Fuel:


54.7 gal


207.0 L








66 gal


249.8 L

(optional)




Hydraulic system:


13.7 gal


51.9 L








15.9 gal


60.2 L






Front axle:


8.8 qts


8.3 L






Front hubs:


1.6 qts


1.5 L




Hydraulics




Type:


constant flow load sensing






closed-center load sensing (optional with ROPS)




Capacity:


13.7 gal


51.9 L








15.9 gal


60.2 L






Pressure:


2900 psi


200.0 bar






Valves:


1 to 4




Pump flow:


21.1 gpm


79.9 lpm








29 gpm


109.8 lpm

(optional with ROPS)


Tracktor Hitch




Rear Type:


II




Control:


position control






electronic lower-link (optional with ROPS)




Rear lift (at 24″/610mm):


5,915 lbs


2683 kg




Power Take-off (PTO)

| | |
| --- | --- |
| Rear PTO: | independent |
| Rear RPM: | 540/1000 |

Title serial numbers




Location:


Right side of main frame above front axle







photo of 7130 serial number




What year is my John Deere 7130? Serial Number Decoder

The serial number list shows the first tractor built in each year. The other tractors for that year will have successively higher numbers. Your serial number should be between two of the stated numbers.

The list only includes the numbers of the first tractors produced in each year. Your serial should be somewhere between two numbers.Unless you happen to be the first person to own a tractor, your number will not appear on the list.

John Deere 7130 Engine detail




Engine Detail


John Deere 6068HL280



turbocharged diesel



6-cylinder 12-valve



liquid-cooled



Displacement:


414.4 ci


6.8 L






Bore/Stroke:


4.19×5.00 inches


106 x 127 mm






Emissions:


Tier III




Rated Power (EC 97/98):


121 hp


90.2 kW






Air cleaner:


dual paper elements




Rated RPM:


2300




Idle RPM:


850-2460




Operating RPM:


1600-2300




Torque:


358 lb-ft


485.4 Nm






Torque RPM:


1500




Firing order:


1-5-3-6-2-4




Starter volts:


12




Starter power:


4 hp


3.0 kW






Oil capacity:


20.8 qts


19.7 L






Intake valve clearance:


0.014 inches


0.356 mm






Exhaust valve clearance:


0.018 inches


0.457 mm







Engine Oil

John Deere 7130 Transmission overview




Transmission:


John Deere SyncroPlus




Type:


full synchro shift




Gears:


12 forward and 4 reverse




Oil capacity:


54.8 qts


51.9 L






Four ranges, each with four forward gears and reverse operated via a range shift lever and gear shift lever. Cluch must be used to change range or gear. Only avaialable with ROPS.

John Deere 7130 Dimensions




Wheelbase:


106.3 inches


270 cm

(2WD)






104.3 inches


264 cm






Length:


187.3 inches


475 cm






Width:


65.5 inches


166 cm

(flange axle ends)




Clearance (front axle):


21.6 inches


54 cm

(2WD)






23 inches


58 cm

(4WD)




Clearance (rear axle):


28.2 inches


71 cm






Clearance (drawbar):


19 inches


48 cm






Rear axle:


65.5 inch length


1663 mm

(




Rear axle:


3.1 by 100.6 inches


78 by 2555 mm

(




Front tread:


59.5 to 85.5 inches


151 to 217 cm

(2WD)




Front tread:


59.4 to 88 inches


150 to 223 cm

(4WD)




Rear tread:


63.5 to 72.5 inches


161 to 184 cm








John Deere 7130 Weight



Shipping:


9,657 lbs


4380 kg

(2WD)






10,252 lbs


4650 kg

(4WD)




Operating:


12,340 lbs


5597 kg






Max capacity:


18,740 lbs


8500 kg






Max Drawbar:


4,960 lbs


2249 kg






Max front axle:


4,520 lbs


2050 kg

(2WD)






9,260 lbs


4200 kg

(4WD)






11,025 lbs


5000 kg

(2WD with loader)






14,505 lbs


6579 kg

(4WD with loader)




Max rear axle:


14,330 lbs


6500 kg








John Deere 7130 Height



ROPS:


115.2 inches


292 cm








90.8 inches


230 cm

(folded)




Cab:


114.4 inches


290 cm




FAQ

Is John Deere 7130 a good tractor?

The John Deere 7130 is one of the great tractors in the John Deere stable, and it has earned John Deere a fantastic reputation.

How much oil does a John Deere 7130 take?

Check out the John Deere 7130 oil capacity and oil type in the engine specs section as it may vary across the engines. Keep in mind, that older models might have their oil capacity increased over time. You may compare between the early and late oil capacity.

Do tractors have VIN numbers?

Every tractor has a VIN number. The number is usually engraved below the driver's seat. Tractor manufacturers put the number in different places on the tractor body.

What was the last year John Deere made the 7130?

The John Deere 7130 was an agricultural tractor model made from 2007 – 2011

Where is the serial number on a John Deere 7130?

Lookup right side of main frame above front axle